If you are looking for the time of your life, look no further than Put In Bay Island off the coast of Ohio in beautiful Lake Erie. Surrounded by sparkling blue water on all sides, this island retreat is like no other and offers no shortage of things to do. Whether you are looking for a relaxing getaway from everyday life or just the opposite—an up-all-night, adventure-filled experience you will never forget—this little island has it all. Here we explore things to do in Put In Bay.
Can't-Miss Put In Bay Attractions
The above include only a portion of the things to do in Put In Bay. With so many options, it is easy to understand not knowing where to start! May we suggest an island favorite in Goat, Soup and Whiskey? With a warm, accommodating staff, famous fish tacos and plenty of cocktail flavors to choose from, you will want to make this bar and grill a frequent stop on your quest of things to do in Put In Bay. Or if you would prefer good wine, tasty foods in generous helpings and breathtaking views from the patio, try the Put In Bay Winery. Looking for the feel of the sea? Visit The Boardwalk. Clam chowder and lobster bisque are fan favorites, but there is plenty of seafood options to satisfy any patron. This Put In Bay attraction certainly brings the beach vibes!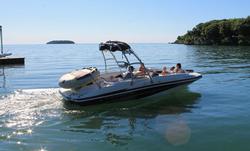 No matter which dining location you choose, you won't be disappointed.
Once your tummy is full and your thirst is quenched, it is time to take in the beauty of the island! Some of our favorite destinations include Perry's Victory & International Peace Memorial, the Butterfly House and Perry's Cave. When you visit the monument, you can get a bird's eye view of the island from up above, a great way to begin your visit. Children and adults alike can frolick amongst local and tropical butterflies in a fun yet romantic environment at the Butterfly House. The habitat is beautiful and doesn't disappoint—and don't forget to visit the gift shop for a memento of your island visit. Should you choose to venture to the underground cave, you will find a hidden lake and awe-inspiring geographical formations.
There are so many things to do in Put In Bay, these are just a start to the fun that awaits you!
So Many Things To Do in Put In Bay!
While the island may be small, it packs a lot of attractions. Visitors can lounge at the beach, take in historical landmarks, partake in water sports and play a round of 18 holes on stunning golf courses—and that is just for starters!